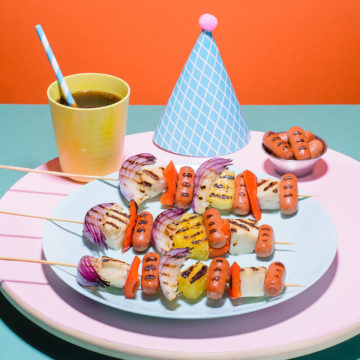 The BBQ Skewer
A delightful party treat that adults and kids alike all love. Easy to prepare and quick to disappear from a plate, so grab yours quick!
8 minutes
Some
ingredients

you'll need…
1 can of Ye Olde Oak Cocktail hot dogs
4 skewer sticks
1 red pepper, cut into chunks
200g halloumi
8 slices of pineapple
1 onion, cut into chunks
Method
Empty hot dogs, including brine, into a sauce pan and heat gently for about 5 minutes.
Heat a little oil in a pan on a high heat. Add the onions and fry for 1-2 minutes until they just start to brown.
Add the pineapple and halloumi and cook for another minute or until slightly browned.
Add the cooked ingredients onto the skewer sticks, alternating between each one. Serve immediately.