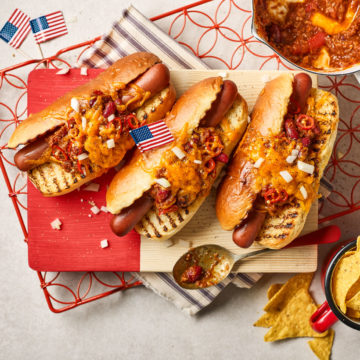 Coney Island Dogs
Loaded with chilli, delicious toppings, and cheese! This Coney Island hot dog recipe is one not to be missed!
15m
Some
ingredients

you'll need…
8 Ye Olde Oak hot dogs (1 can)
59ml mustard
1 can of your favourite chilli
32g diced onion
Method
Grab a can of your favourite chilli and follow the instructions on the back of the can.
Empty your Ye Olde Oak hot dogs, including brine, into a sauce pan and heat gently for five minutes.
Preheat the oven to 175°C. Arrange the hot dog buns on a baking sheet.
Warm the buns in the preheated oven until soft and warm, 2 to 3 minutes.
Place one bun on a plate. Place a hot dog in the bun and top with chilli. Drizzle on yellow mustard and diced onion. Repeat with the remaining hot dogs.