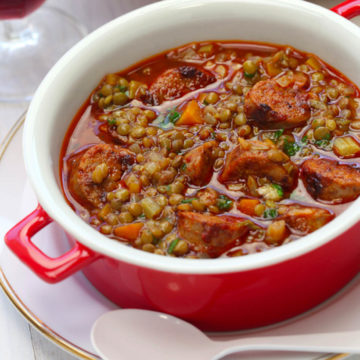 Sausage Casserole
A warming winter favourite for all the family to enjoy.
1 hour 30 minutes
Some
ingredients

you'll need…
1 tin Ye Olde Oak Jumbo Hot Dogs
1 teaspoon olive oil
1 onion, chopped
2 Potatoes cubed
2 carrots, chopped
1 leek, chopped
2 cloves garlic, chopped
1 tablespoon plain flour
175ml red wine
1 teaspoon tomato puree
1 teaspoon mixed herbs
1 bay leaf
1 pinch salt
1 pinch ground black pepper
300ml vegetable stock (hot)
Handful of chopped parsley
Method
Add oil to a large pan, add the onion and cook for 5 minutes. Add the carrots, potato, leek and garlic and cook for a further 5 to 10 minutes until starting to soften.
Add the flour and red wine and stir with a wooden spoon, scraping at the bottom of the pan. Stir in the tomato puree, then transfer the mixture to the casserole.
Add the herbs, bay leaf, seasoning and stock to the casserole and stir thoroughly. Bring to the boil then cover and reduce the temperature and simmer for 30 to 45 minutes, stirring occasionally.
Using a pair of kitchen scissors cut the sausages into chunks. Add to the casserole and cook for a further 10 minutes.
Sprinkle with Chopped parsley and serve.
Serve with Cheesy mash the family will love this recipe.