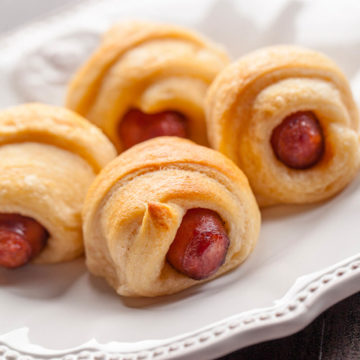 Mini Hot Dog Rolls
A party favourite that children and adults of all ages can enjoy.
45 minutes
Some
ingredients

you'll need…
2 puff pastry sheets, thawed if frozen
1 tin Ye Olde Oak Cocktail Hot Dogs
Dipping sauce of your choice
Method
Preheat oven as suggested by puff pastry packet's instructions.
Heat cocktail hot dogs in boiling water. Drain until cool enough to handle.
Place three mini hot dogs onto 1 sheet of pastry leaving a gap between each. Moisten pastry and roll once until covered, then cut pastry across as if you would have one big long sausage.
Cut the pastry where the gaps are between the sausages and you should be left with the puff pastry wrapped around mini hot dogs.
Repeat until the sheets of pastry are used up.
Place onto baking tray, with enough space to expand. Bake in preheated oven until pastry is golden and puffy.
For added flavour place some sliced cheese around the hot dog. Great for both children's and grown-up's parties!