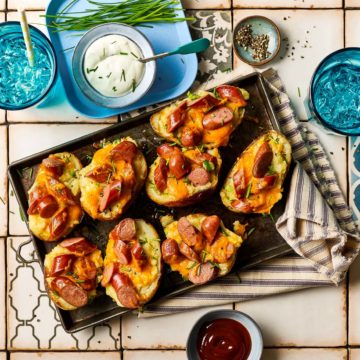 Fully Loaded Potato Skins
Sick of eating the same old jacket potatoes for lunch? Treat yourself to these loaded-up potatoes, layered with Ye Olde Oak and oozing cheese!
25 minutes
Some
ingredients

you'll need…
4 potatoes
Extra-virgin olive oil
Salt
8 Ye Olde Oak hot dogs (1 can)
100g grated cheddar
120g sour cream
2 spring onions
Method
Preheat the oven to 220°C (200°C fan). Place the potatoes in a dish and pierce them a couple of times with a fork. This will help release the steam inside whilst cooking and stop them from exploding. Microwave on high for 5 minutes.
Transfer the potatoes to a baking tray lined with parchment paper. Coat the potatoes in olive oil with a cooking brush then season with salt. Bake for 10 to 15 minutes or until tender.
Meanwhile, pour boiling water into a small saucepan and cook your Ye Olde Oak hot dogs for 5 minutes.
Remove the potatoes from the oven and once they have cooled off, cut them in half lengthwise. Using a spoon, remove the potato itself leaving the shell and half a centimeter of potato. Add skins back to the pan and brush with oil all over, inside and out. Bake for 4 to 5 minutes per side or until golden and crisp.
Reduce oven temperature to 190°C (170°C fan). Sprinkle cheddar over the potatoes and bake until the cheese is melted. Top with Ye Olde Oak, a spoonful of sour cream, and spring onions. Serve immediately.