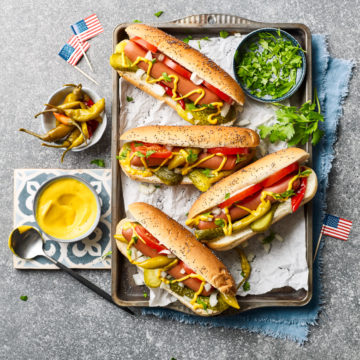 Chicago City Hot Dog
The Chicago dog is a windy city classic and one not to be missed! But don't you dare smother it in ketchup!
15 minutes
Some
ingredients

you'll need…
8 Ye Olde Oak hot dogs (1 can)
8 poppyseed hot dog buns
1 tsp yellow mustard
1 tsp sweet green pickle relish
1 tbsp chopped onion
8 tomato wedges
8 dill pickle spears
8 chilli's
1 tsp celery salt
Method
Empty Ye Olde Oak hot dogs, including brine, into a sauce pan and heat gently for 5 minutes.
Carefully place a steamer basket into the pot and steam the hot dog buns for 2 minutes or until warm.
Place the hot dogs into the steamed buns. Pile on the toppings in this order: yellow mustard, sweet green pickle relish, onion, tomato wedges, chilli's, and celery salt. The tomatoes should be nestled between the hot dog and the top of the bun. Place the pickle between the hot dog and the bottom of the bun.