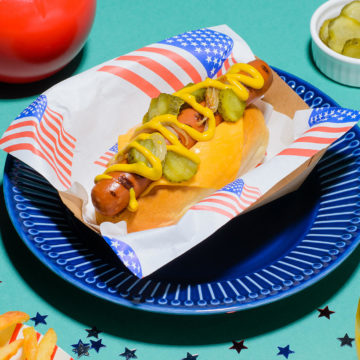 The American
A staple in the USA, the classic combination of gherkins, mustard and cheese is sure to get those taste buds firing on all cylinders.
10 minutes
Some
ingredients

you'll need…
2 American Style Jumbo hot dogs
2 hot dog buns
2 cheese squares
100g onions, finely sliced
75g gherkins, sliced
For the dressing:
Mustard
Season with pepper
Method
Empty hot dogs, including brine, into a sauce pan and heat gently for about 5 minutes.
Heat a splash of oil in a pan on a high heat and add the onions. Fry for 3-4 minutes or until lightly browned.
Brush the hot dog buns with butter and lightly toast in the oven.
Add the cheese to the buns and add the hot dogs on top.
Add the onions and gherkins onto the hot dogs.
Dress with mustard and season with pepper to taste.