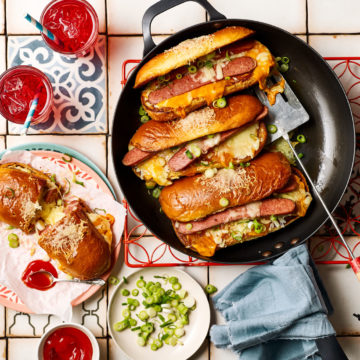 Grilled Cheese Dogs
Ready to get your grill on?
20 minutes
Some
ingredients

you'll need…
8 hot dog buns
2 tbsp butter, softened
1/4 tsp garlic powder
1/4 tsp onion powder
8 Ye Olde Oak hot dogs (1 can)
300g grated cheddar
4 Spring onions, sliced
Method
To start, cut the hot dog buns lengthwise and roll them flat with a rolling pin.
In a small bowl, mix butter, garlic powder and onion powder.
Using a pastry brush spread the mixture over the outside of the hot dog buns.
Heat a large pan over medium heat and sear the Ye Olde Oak hot dogs until charred, 2 minutes per side. Then set them aside.
Place the buns buttered-side down in a pan (or as many as you can fit in the pan at a time) and top with 50g of cheddar cheese, a hot dog, and ¼ of spring onions.
Cover and cook over medium heat until the cheese melts, then use a spatula to close the bun. Repeat with the remaining ingredients.