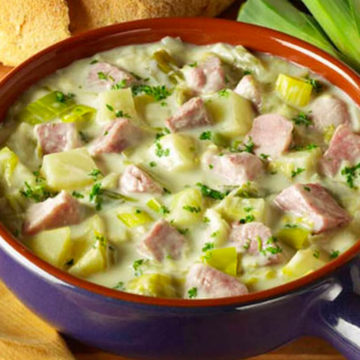 Olde Oak Ham Leek and Potato Soup
Filling and satisfying flavour packed soup.
1 hour 15 minutes
Some
ingredients

you'll need…
25g Butter
2 leeks, washed, trimmed, sliced
600g Potatoes, peeled and roughly chopped
7 cups (1.75L) water
1 Tin Ye Olde Oak Finest Gammon Ham, cut into 1cm cubes
3 Flat-leaf parsley stalks
Salt and Cracked black pepper
Chopped Chives to serve
Method
Melt butter in a large saucepan over medium heat. Add leek and cook for 3 minutes or until soft (do not brown).
Add potato, water, and parsley stalks and bring to the boil. Reduce heat and simmer for 1 hour or until potatoes are soft. Remove soup from heat and set aside.
Remove parsley stalks from soup. Using a hand blender, process the soup until smooth. Add ¾'s of the Ye Olde Oak finest gammon ham cubes to the soup and return pan to the heat for 3 minutes or until soup is warmed through. Season with salt and pepper.
Ladle soup between serving bowls and top with remaining ham and chives. Serve immediately.
Eat with warm crusty bread for a heartwarming meal on a winters day.